Using ONTRAPORT Pages for Selling Your Products 
With ONTRAPORT Page's easy to use drag and drop interface, your a few steps away from getting your products out on the web and in front of your prospects.
Create a Page
Go to Pages and click on New Landing Page

Starting from Scratch?
The flexibility of Pages gives you endless possibilities of choices for design and layout. We highly recommend using one of the Sales Pages Templates and customizing them to your business needs. In this tutorial, we'll create a simple Order From Block from scratch and add our product.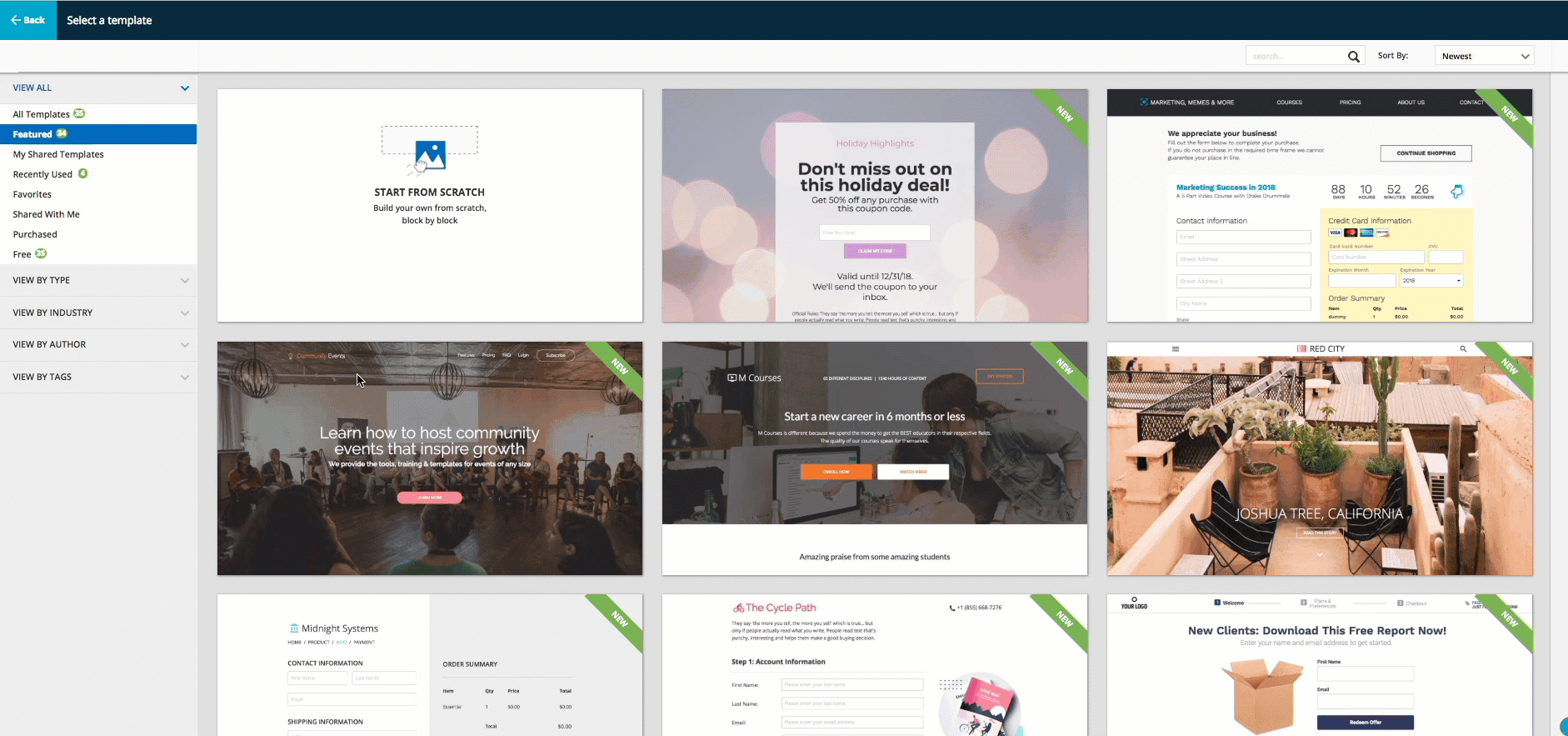 Now that we have created a Block and added the Columns, it's time to drag the Elements from the Palette that will make up our Order Form Block. The Elements for Order Forms are organized in the Palette under "Form and Sales".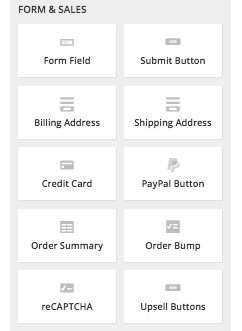 When creating an Order Form there are certain Elements that are necessary for a purchase to be validated. These Elements are, First and Last Name (Form Fields), Billing Address, Credit Card, Order Summary, and Submit Button.
Drag and Drop the Elements from the Palette to the various Rows.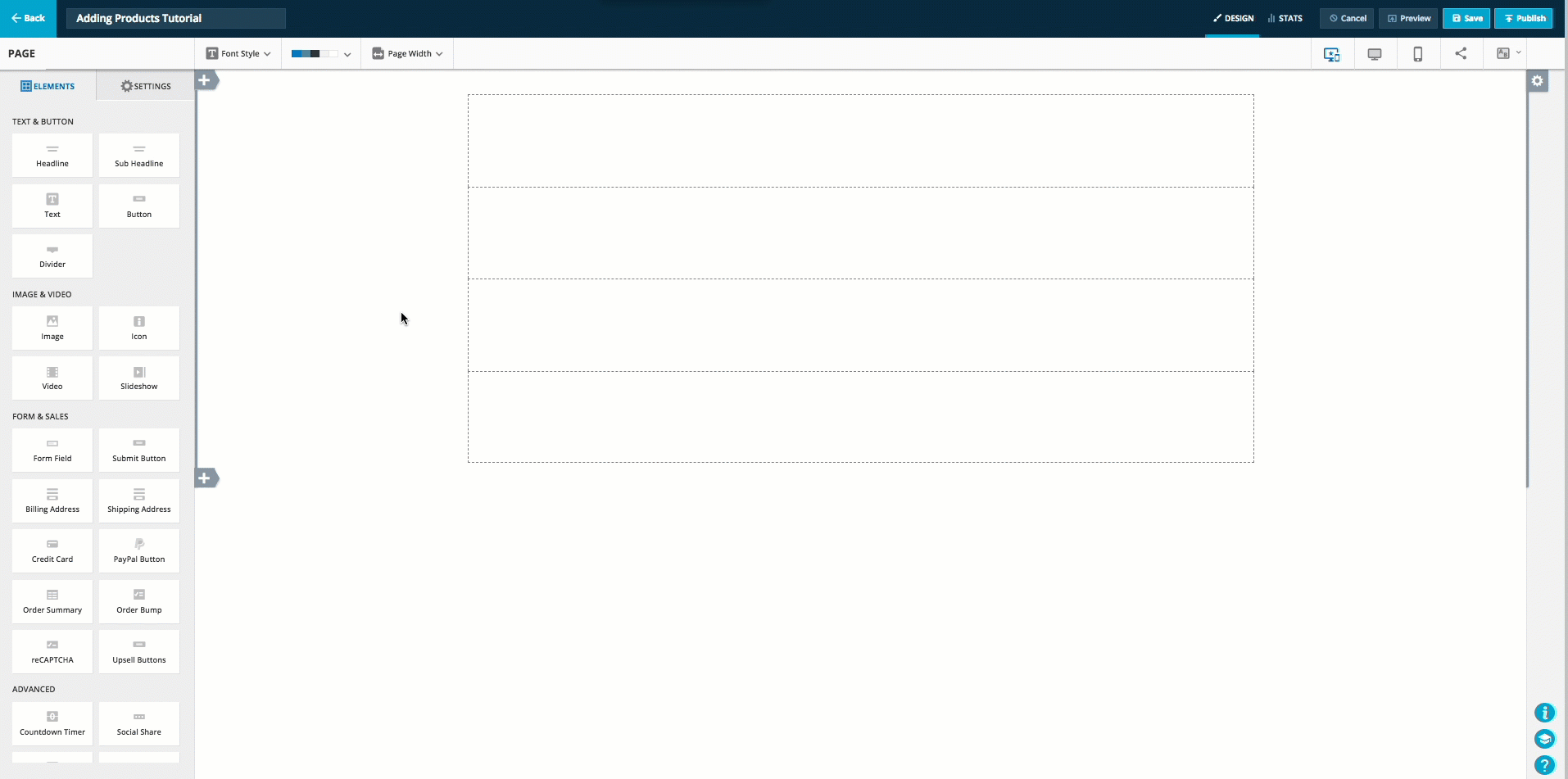 Adding your Product
You'll notice when you drag the "Order Summary" onto the canvas, you are prompted to add your product.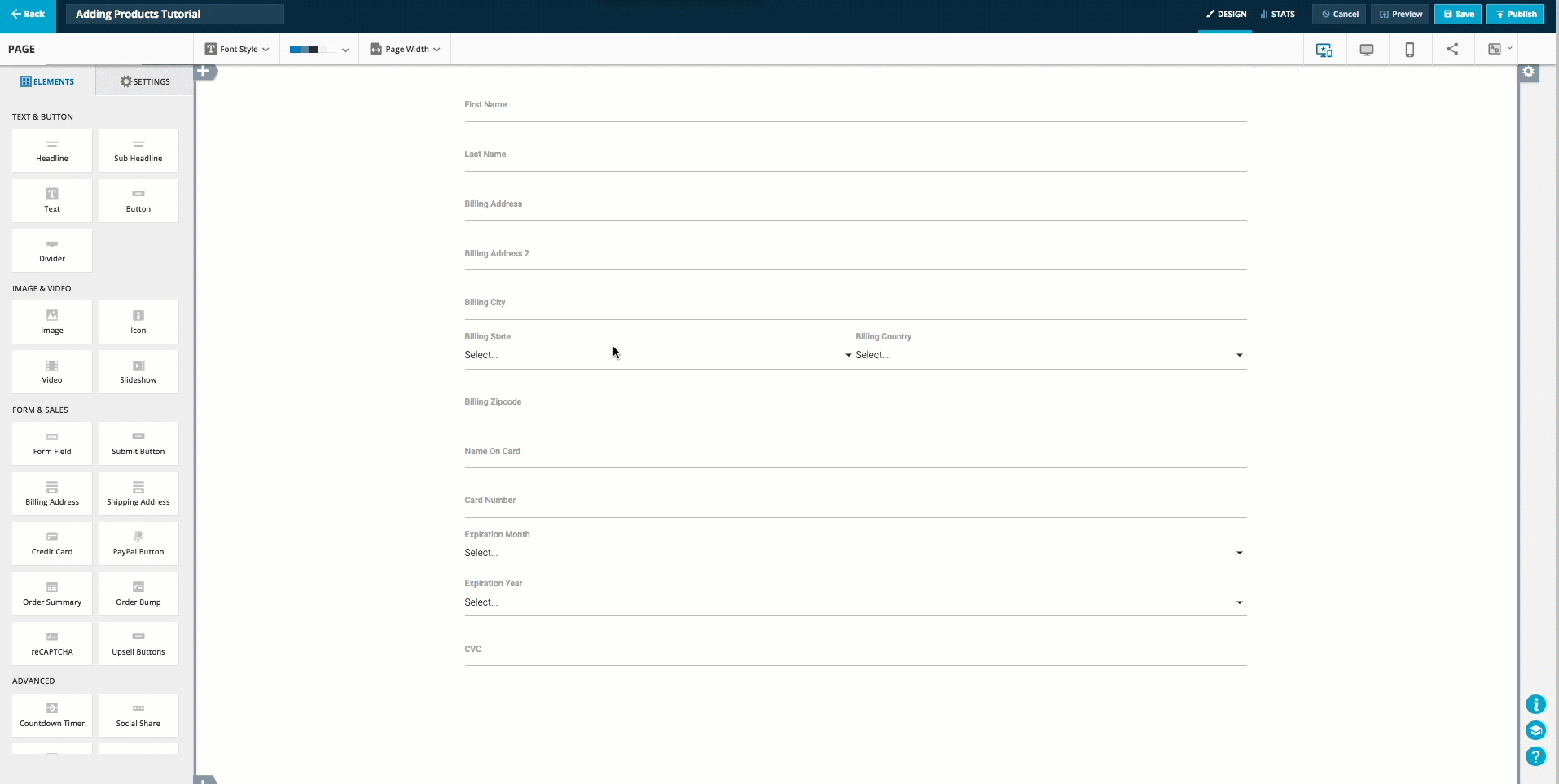 Select Your Product
From the dropdown, select the product (or products) that you would like to sell for this transaction.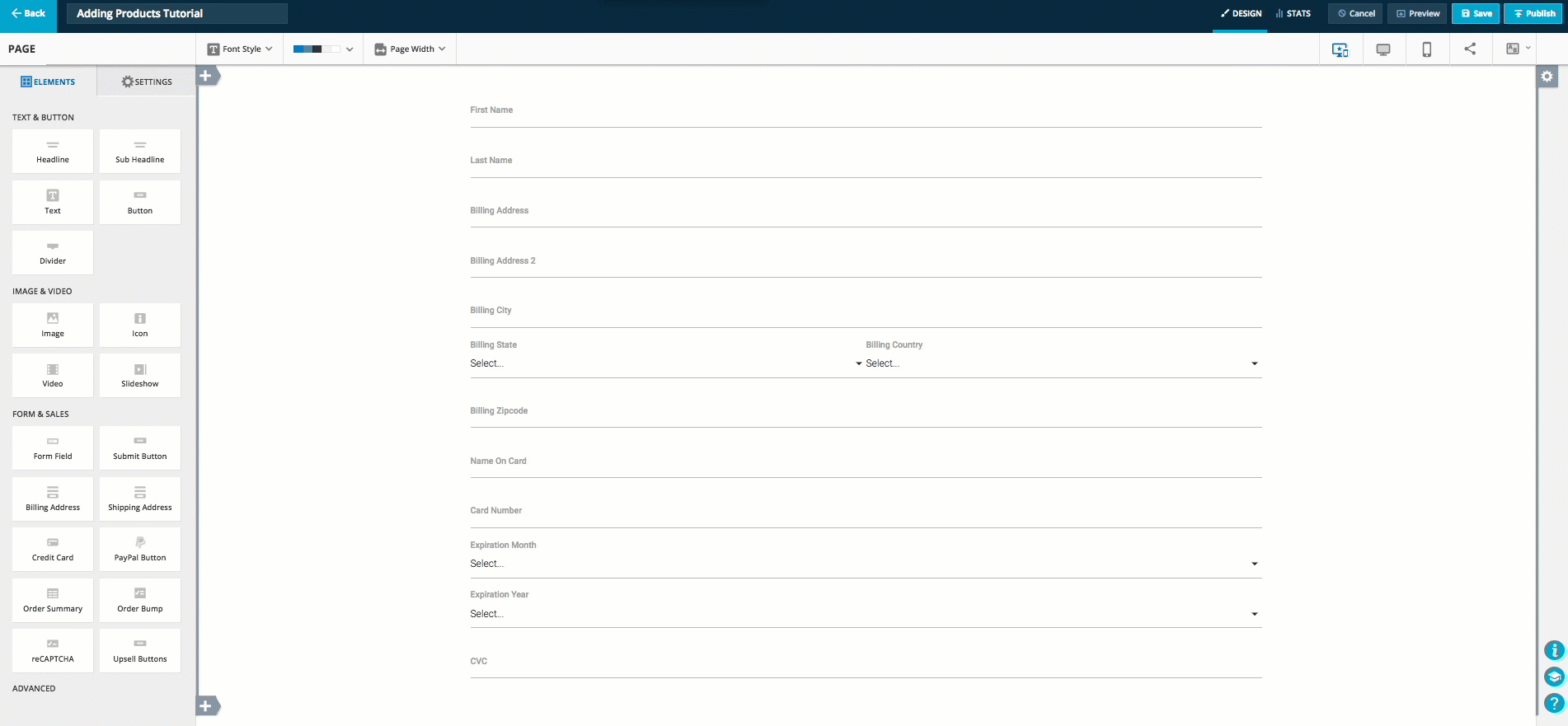 Options for each product
Hover to the right of each item and select from the options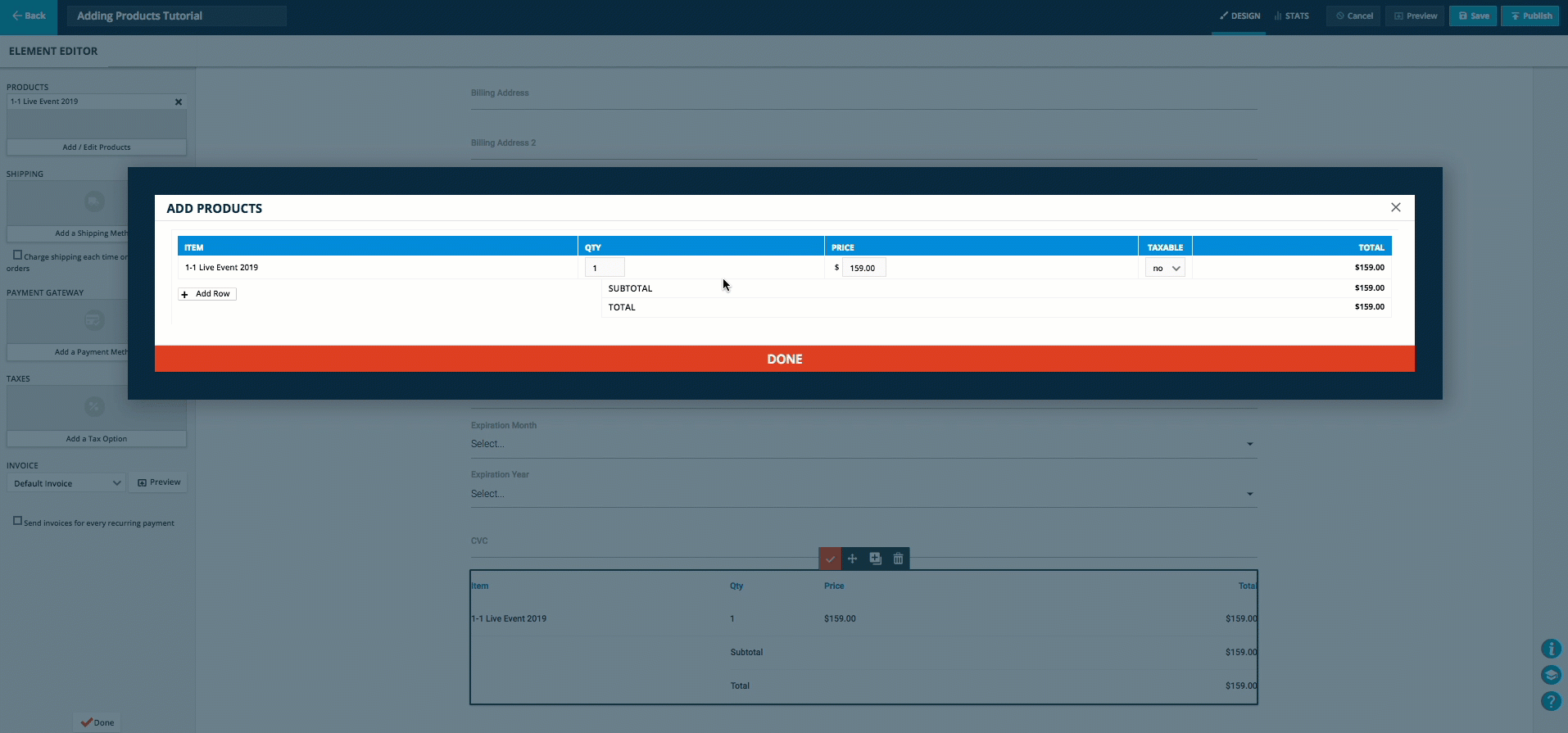 Let's take a look at each option 
Add a Trial period: To offer a product with a trial period (e.g., 1 week for $9.99 and $197 thereafter) adjust the settings.
Make this a subscription: To offer a product with a continuous, recurring payments (e.g., $97 per month), adjust these settings.
Offer a payment plan: To offer payment plans (e.g., one payment of $497 or 3 payments of $199 per month), adjust these settings. Tip: Offer multiple payment plans by clicking the + Add payment option link in the product grid.
Allow buyer to change quantity: To allow customers to change quantities of items on the order form. select this option. Enter the default quantity, minimum and maximum allowed per order. The product grid will show an up/down arrow next to the quantity of the item so customers can tick the arrows up or down.
Add to shipping/packing slip: For products that need to be shipped, select this option. Once complete, the product will show a small truck icon next to it in the product grid.
Insert Coupon Code: To enable customers to enter a Coupon Code for a discount, select this option. Once complete, the product grid will show a row for Coupon Code.
Remove this item: To remove a product from the order form, hover over the item row and select this setting. The item will disappear from the product grid.
Charge on a later date: To charge all items on the order form on a later date, hover over the "Total" column and enter the date you'd like all charges to go through on. To remove this item, hover right and select remove charge on later date.For detailed information on payment structures, please see this article.
For detailed information on payment structures, please see this article.
Settings for your Product
Once your product is selected, you'll notice you have quite a few options in the Element Editor.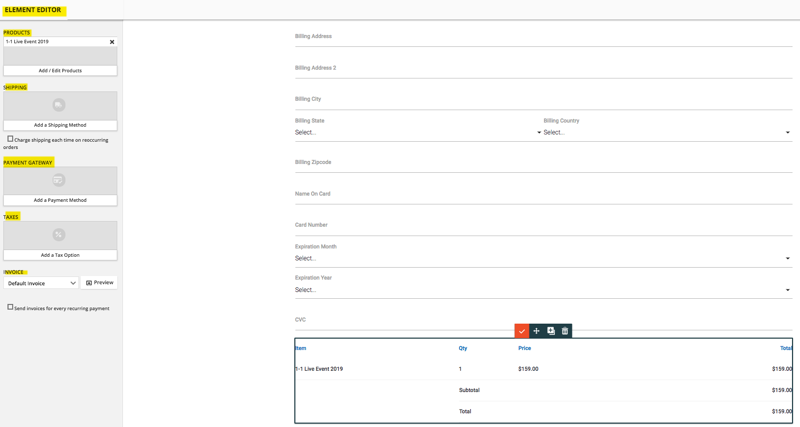 Select your Payment Gateway
In order for your sale to process, you must select your Payment Gateway. To learn more about Payment Gateways, we recommend this article.  In this tutorial I chose a Dummy Gateway, which is a great way to test your sales process without charging you. You would need to change this to an actual Payment Gateway before going live!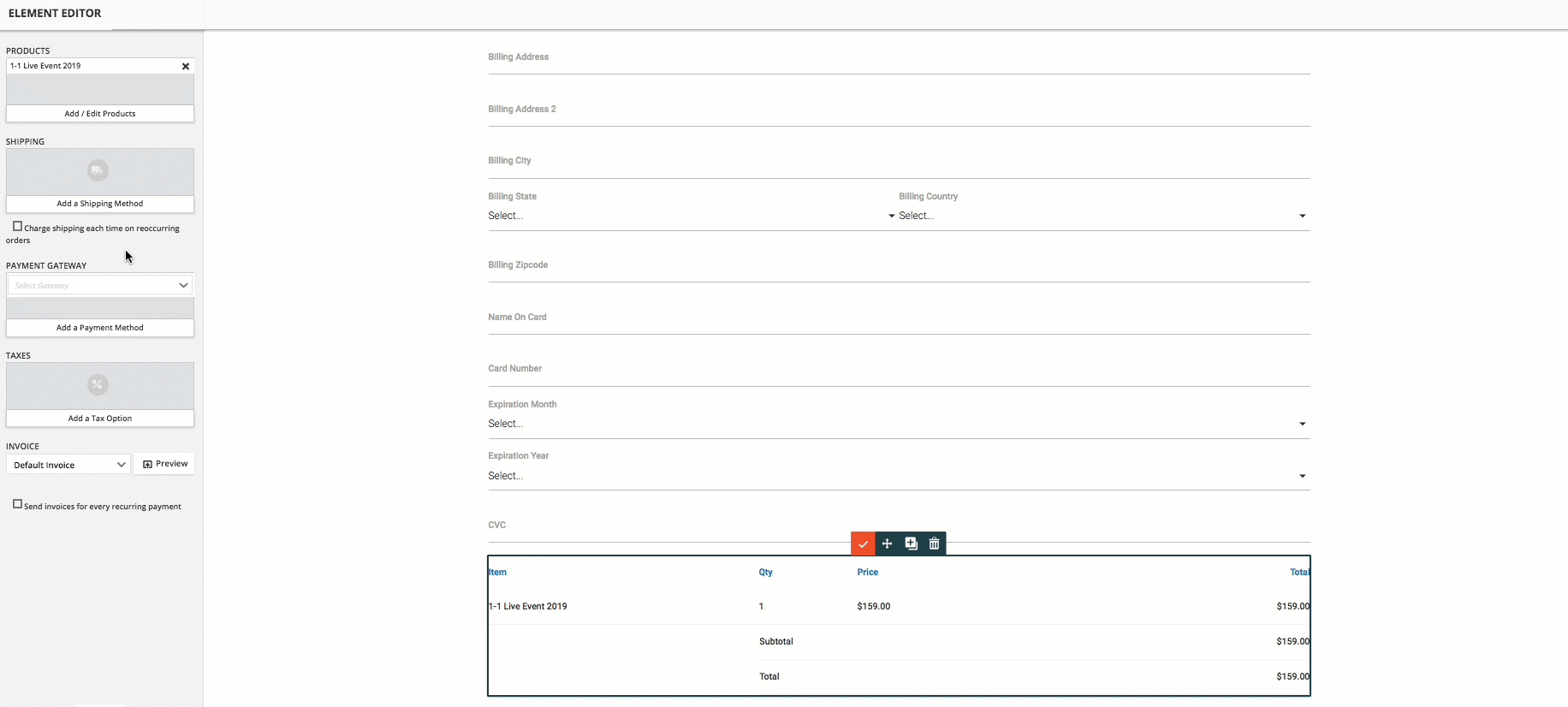 Other Settings
Shipping
If you're setting up a physical product that will need to be shipped, adjust the Shipping Settings to your preference. See this article for detailed information about adding shipping methods.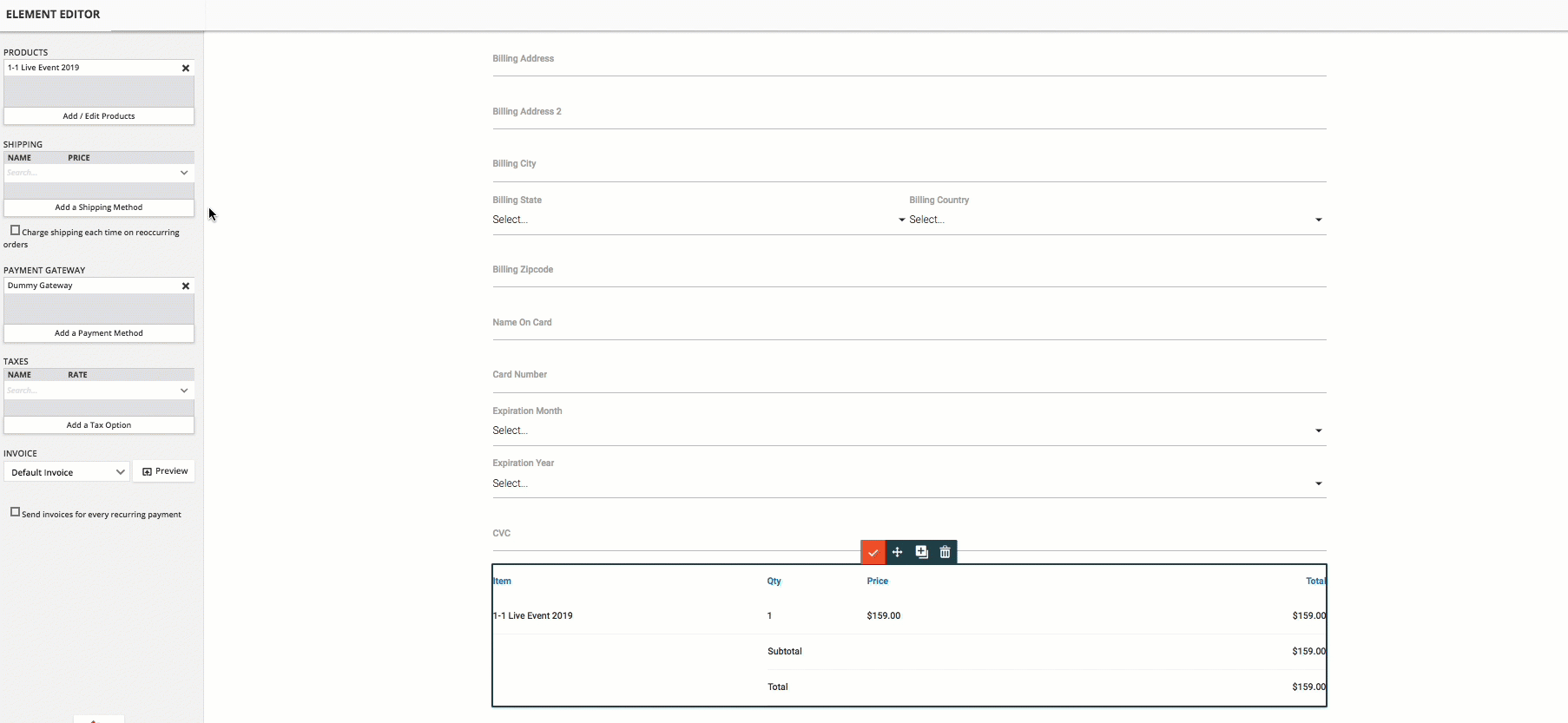 Taxes 
Select your Tax Preferences. See this article to learn how to add taxes.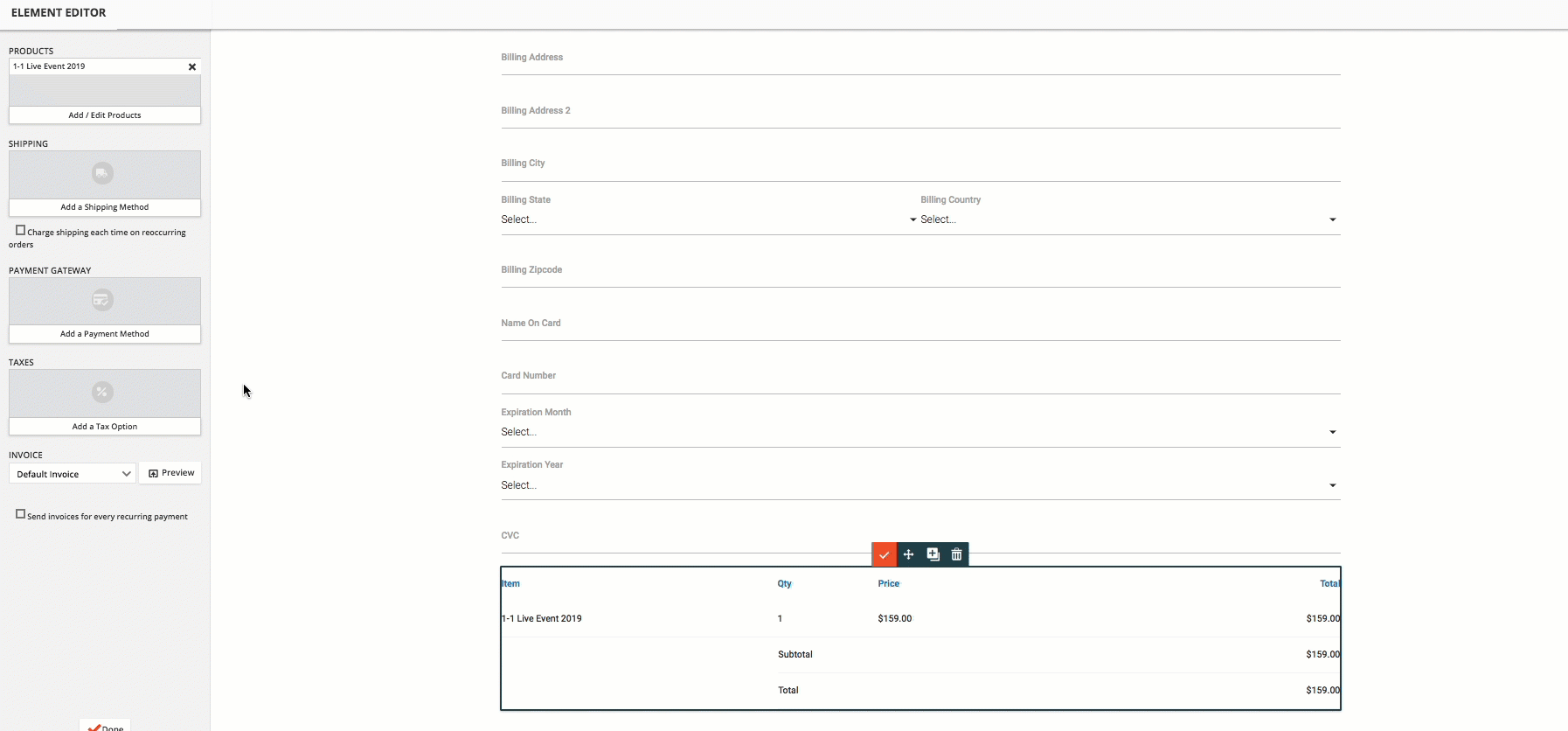 Invoice Preferences
Here you'll set your Invoice Preferences. If you prefer to create your own custom invoice, see this article.

Save your block as a favorite.
Congratulations! You have finished creating an Order Form Block and added your Product. Now take a moment to save your Block as a Favorite! This can be a huge time saver if you decided to sell the same product on a different Page, or if you like the layout, just change the Product!
Order Bumps and Upsells
Don't forget that you have a few other tools available that are proven to help generate sales. See Adding Order Bumps and Upsells for more information!
Articles in this section
See more