What are Promo Tools?
Applies to: ONTRAPORT Plus and above.
These are the tools you will give your partners the tools they need to promote & sell your stuff for you. Promo Tools can come in the form of links, banners, lightboxes or email copy. Once you've uploaded a promotional tool into the settings of one of your partner programs, your partners can receive their promotional tools as merge fields in messages you send from your ONTRAPORT account or automatically access them through their partner center enabled on your integrated WordPress website. See the list of available promotional tools below.
Banner
A banner ad is a commonly used method of attracting a click. You'll design the ad, then upload it. Partners download the banner, which is already linked with their partner information and embed it onto their web pages.
Email message
These are marketing emails written by you, usually with links to your Direct Link or Standard Link Promo Tools. These links are available in the Merge Fields drop down above the editor and populate with the Partner's information when they are presented in the Partner Center. Your Partners will copy and paste the email message promo tool into their own email services and send them to their mailing list.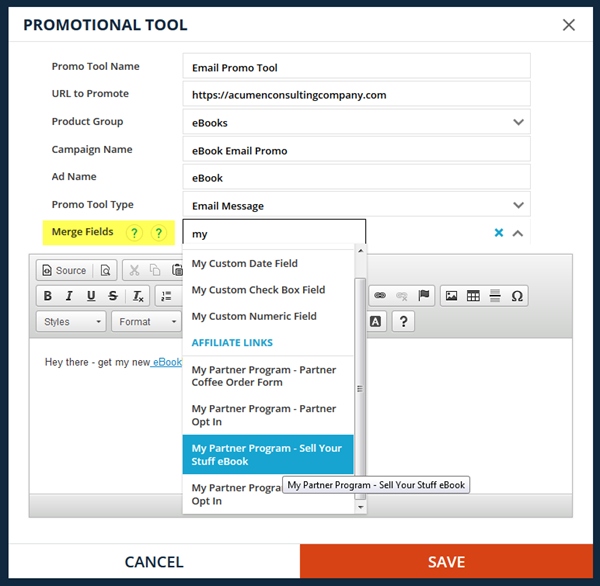 Lightbox
Upload any image, like a banner type image, and when your partners download it, they'll get special code which they can paste onto their web page, which will make it pop up a lightbox that has that image on it, linked with their partner referral link.
Direct Link
This is their partner link that uses the raw url of the page you're linking to. Some like this option because it is the exact URL that you're directing traffic to. Please reference Standard Link below for the difference between direct and standard links. We highly recommend that you use Standard Links for the most flexibility.
Standard Link
This promo tool briefly redirects clicks through your new tracking domain: https://yoursubdomain.ontraport.net or through your custom domain if you've got one set up. The advantage of this promo tool is that if you ever need to change the location of the page you want prospects driven to, you can easily do so, and all your partner' links will still work as normal.
If you haven't setup your Partner Program, start here.

Go to the Navigation bar > Partners > Programs




Click on the partner program on which you wish to add a promo tool



Click on the Promo Tools tab



Open the Actions menu > Add Promotional Tool




Name the tool



Type in the URL this tool will promote (the URL of the page where your order form is located)



Select which product group this promotional tool will belong to



Select what type of tool you wish to create



Banner


Light box


Standard Link


Direct Link


Email message



Type in a campaign name (optional)



Type in an ad name (optional)



Select a stored image (if using lightbox or banner only). These images will be available for your Partners to download from their WordPress Partner Center.



Save
The URL that the promo tool leads to MUST have tracking scripts installed, otherwise, the referrer will not be tracked.



You do not need to install tracking scripts on the URL that the promo tool leads to if the URL is a WordPress site that's integrated with ONTRAPORT using the pilotpress plugin or if the URL leads to an ONTRAPORT landing page.



Do not have a promo tool lead to a redirect landing page.
Creating a Partner Signup Form
Create a Partner Welcome & Thank You Process
Enable the Partner/Affiliate Center in WordPress
Manage Commissions and Payments
Articles in this section
See more